APFC Panel ( Automatic Power Factor Correction Panel )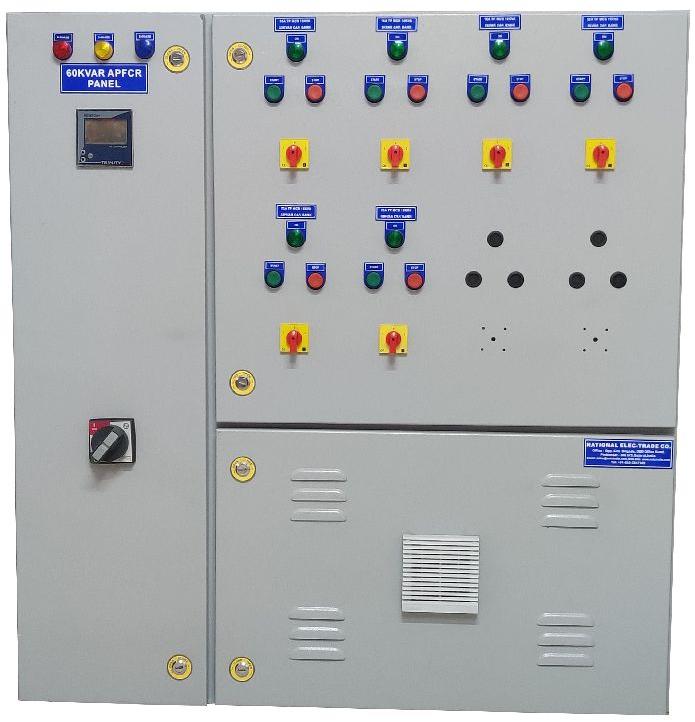 Size
Standardized
Type
Automatic Power Factor Correction Panel
Application
Industrial Purpose
Color
In Grey (RAL 7305) Structure Finish
Click to view more
Preferred Buyer From
| | |
| --- | --- |
| Location | All Countries Except India |
Product Details
Body Material
Sheet Steel Enclosures
Construction
Indoor, floor Mounting
Operating temperature
-0.5 to 45 degree C
Automatic Power Factor Correction or APFC Panels are mainly used to improve the power factor. The automatic Power factor correction panel is fully automatic in operation and can achieve desired power factor under fluctuating load conditions. Power Factor is the ratio of active power to apparent power and it is a major component in measuring electrical consumption.
Why APFC Panels are needed :
In industry, most of the load is inductive in nature which results in lagging power factor that is why there is loss and wastage of energy which results in high power bills and heavy penalties from electricity boards. If the load is uneven it is very difficult to maintain the unity power factor. To overcome this difficulty APFC panel is used which maintains unity P.F.
Features:
Fast Real-Time Transient-Free switching of Capacitor Banks.
Renders the distribution network more stable since there is no contactor switching causing high voltage transients, spikes, harmonics, and other disturbances by applying zero cross-over voltage switching ON and zero current switch OFF of the capacitors.
Modular design, Non-compartmentalized.
Indoor, Floor mounted cable entry from bottom.
Prevents damage to sensitive electronic equipment that is not working.
Minimum joints hence better reliability and lower losses.
Special cables used hence withstand high temperature.
Helps you bring down electricity consumption and reduce your bills P.F Control and Harmonic Filtration.
Highly intelligent microprocessor-based 3 phase P.F. Controller with Dual P.F. Setting and Master-Slave modes.
LCD Controller has inbuilt with Load Manager with front optical port.
Optional pluggable Data Logger, Ethernet, USB, Rs485, GSM modern, and capacitor protection modules.
Extremely long life expectancy.
The system is available with Contactor switching for non-dynamic and normal loads – Ratings and Dimensions are the same as Active Comp System.
Applications of APFC Panels.
Automobile Industries.
Metal Industries.
Pharmaceutical Industries.
Cement Industries.
Chemical Plants.
Windmills & Power Stations.
Textile Machinery.
Printing Industries.
Railways.
Hospitals, Malls, Banks, and IT Parks.
Commercial Complexes.
Food Processing Plants.
Steel Rolling Mills.
Sugar Plant.
Specification:
Phase: Delta connection.
Capacity: kVAR.
Input voltage range: 380/415/440volt, 3phase, 50/60Hz.
Construction: Indoor, floor mounting powder coated.
Insulation: Class "B".
Operating temperature: -0.5 to 45degree C.
Read More...
Looking for "
APFC Panel ( Automatic Power Factor Correction Panel )

" ?
No